Glass Tea Flask | Voyage
Camellia Sinensis Collection
Designed for people who wish to enjoy tea anywhere, the glass bottle is practical, minimalist and will quickly become an essential.
In addition to its versatility, the transparent double-walled glass is a valuable asset that enriches the experience with visual pleasure.
The lid is tightly sealed and the infuser basket easily comes of from the filter, allowing you to infuse your tea and herbal tea leaves in any technique you wish, wherever you are. (see video bellow)
Height of the item: 19.75 cm
Diameter: 6.5 cm
The tea flask technique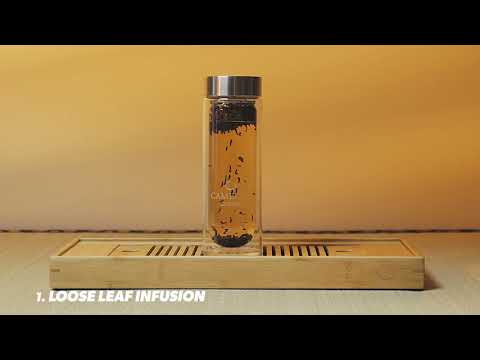 Our tea advisors also recommend
This useful sleeve will add additional protection of your glass tea flask and enhance its insulation.
Whether at work, on the road or travelling, the tea bottle is the ultimate infusion tool for the tea lover on the go.
This selection of ten teas highlights the fascinating diversity of potential flavour profiles that teas of different styles and transformation techniques have to offer.